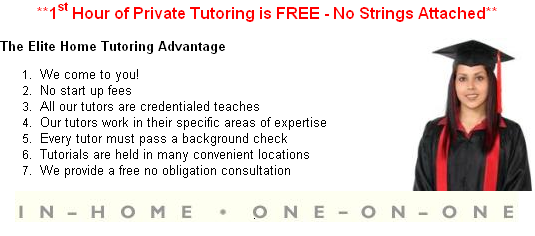 We provide in-home private tutoring and test preparation services from credentialed teachers in San Diego. Our local tutors in San Diego are available to assist students with all academic subjects and standardized tests, including ACT, CAHSEE, ISEE, and SAT preparation. In addition, we specialize in private academic tutoring including: English, Spanish and all sciences, including biology and chemistry, and courses in math, such as geometry and algebra.
Areas our tutors serve near San Diego: Carlsbad, Escondido, Poway, Chula Vista, Imperial Beach, San Diego, Coronado, La Mesa, San Marcos, Del Mar, Lemon Grove, Santee, El Cajon, National City, Solana Beach, Encinitas, Oceanside & Vista,
Zip codes in San Diego we provide tutoring: 92101, 92102, 92103, 92104, 92105, 92106, 92107, 92108, 92109, 92110, 92111, 92112, 92113, 92114, 92115, 92116, 92117, 92118, 92119, 92120, 92121, 92122, 92123, 92124 & 92126.
If you are interested in a tutoring job in San Diego please click here.
Elite Home Tutoring, your resource for tutoring in San Diego!