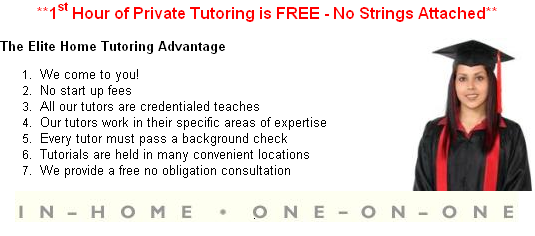 We provide in-home private tutoring and test preparation services from credentialed teachers in Los Angeles. Our local tutors in Los Angeles are available to assist students with all academic subjects and standardized tests, including ACT, CAHSEE, ISEE, and SAT preparation. In addition, we specialize in private academic tutoring including: English, Spanish and all sciences, including biology and chemistry, and courses in math, such as geometry and algebra.
Cities in Los Angeles Served:
Aliso Viejo

Beverly Hills

Chicago

Fresno

Laguna Beach

Malibu

Newbury Park

Palos Verdes

Sacramento

San Clemente

Santa Barbara

Tarzana

Woodland Hills

Alameda

Brentwood

Chula Vista

Huntington Beach

Los Angeles

Mission Viejo

Newport Beach

Redondo Beach

San Bernardino

San Francisco

Santa Clara

Thousand Oaks

Anaheim

Carlsbad

Coronado

Irvine

Manhattan Beach

Monterey

Orange County

Riverside

San Diego

San Luis Obispo

Santa Monica

Ventura
If you are interested in a tutoring job in Los Angeles please click here.
Elite Home Tutoring, your resource for tutoring in Los Angeles!